It didn't take long for me to catch sight of the huge Grade 2 listed 17th Century Anglican Church as I emerged out of the Hammersmith underground station. This historic monument and centre of the local community would for a few hours be the hub for UK Gospel and CCM legends and pioneers. Confirmation that I was in the correct location came when the man walking in the opposite direction called out my full name. It was Howard McCalla of BBC Three Counties radio, which boosted my anticipation level for the Step FWD Awards up a few notches. As I walked through the door I was greeted by one of the red carpet officials with a device and question that quickly reminded me of the unusual times we were in. I confirmed that my Covid PCR status was all good, but was asked politely to remain still while a thermal heat gun was aimed a few inches from my forehead. At first, the reading was not successful, probably because it reflected the arctic conditions I had just walked in from. It was a very cold night, but I was determined like so many others I later discovered, to defy the chill and be part of history.
Just before I was booked in, VIP status, I was approached by the Premier Radio man himself, Ibe Giantkiller. He shook my hands and bowed in reverence. I glanced both ways and tried to conceal my embarrassment with a nervous grin. The scene from Coming To America where the great Eddie Murphy, the Prince of Zamunda was recognized by a subject in a queue at an American football game sprang to mind. I almost expected Giant to ask for a selfie with me and express that it was the greatest day of his life. From the immediate grin on his face, I realised the comedian was running one of his routines. Giantkiller would later on apologise on stage, envelope in hand, for the absence of an awardee due to touring commitments in Wood Green. The audience roared with laughter.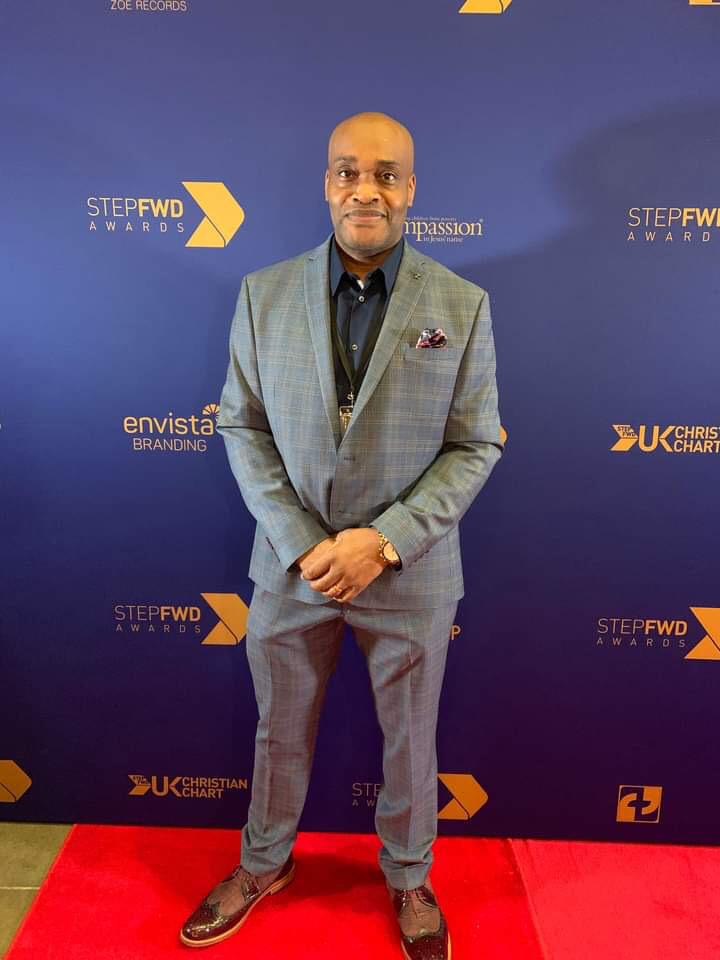 As my shoes sank into the plush red carpet, I felt super proud with my new and exclusive suit and was soon asked by the social media manager to pose for a few photos and say a few words. I picked up a drink and snacks from the welcome table and started to look around in awe at what would appear for me as a historian, the real-life versions of people I had written about in my book and social media platform reviews for MOBO, AStepFWD and various newspapers. I was soon humbled when I recognised someone was wearing the same suited attire. So much for exclusivity.
It soon occurred to me, on a subconscious level I may add, that I was witnessing not so much legends or pioneers, but movers and shakers, survivors, campaigners, revolutionaries. My mind quickly switched to what expert psychologists would refer to as memory and association. I saw the characters and instantly linked them up to their finest moment and achievements. Lawrence Johnson (New Colors), Muyiwa Olarewaju OBE (Riversongz and Premier Gospel), Les Moir (Author of Missing Jewel and respected producer and the engineer behind the Classic 1979 Kainos album). My head spun on an almost 360-degree angle as more people who made their mark in history started to congregate within the reception hall. I also took a spin on the 360-degree photo stage and sent the picture to my daughter and social media influencer, I think, Valeeta Jones. She replied…Lol
The place was buzzing now and I shook hands and embraced so many of these people who although were underrated by the mainstream media, flew high like eagles in God's music kingdom we know as CCM and British Gospel. I embraced Lurine Cato MBE (her 2013 MOBO winning acceptance speech probably goes down as one of the greatest and most humble in the history of the organisation). Graham Kendrick (Shine Jesus Shine). Dave P, Bishop John Francis (Channel 4's People Get Ready). The Bishop's family was one of the first and amongst the Windrushians to lay the foundations of the Black Church in Britain. Helmut and Elisabeth Kaufmann (ICC Studios). I had a chat with the beautiful Elizabeth who reminded me of groups such as Birmingham's Majestic Singers who recorded 1970's albums at this once great and essential establishment and institution engineered by, again, the great Les Moir. I spotted Philippa Hanna (Speed of Light), whose South Yorkshire accent reminded me that she was born not too far from my beloved birthplace Huddersfield. The young Eric Reverence, who I predict to become a future Noel Robinson was also in the house.
The doors of the great hall of St Paul's were finally opened and the crowd moved forward and took up their seats. I sat on the same table as Annette B (I Found Love) one of Gospel Reggae's best.
The show soon started with a burst of music, camera boom arms flying above me and large television monitors on display. The event was not without the usual technical glitches but the downtime was smoothed over by the very professional duo Faith Child and Jennifer Lee Moon (Actress). A number of artists performed including Noel Robinson, Philippa Hanna, Sarah Teibo and Lurine Cato. A comprehensive list of the roll of honour will be found on stepfwdawards.com, but the ones that stood out for me were, Tony Cummings (Outstanding Contribution), Bazil Meade MBE (Lifetime Achievement), Lurine Cato MBE (Lavine Hudson Award for Vocal Excellence) Les Moir (Outstanding Contribution) and Graham Kendrick (Lifetime Achievement). Some awardees were not able to attend, but we are living in strange times overshadowed by a pandemic. Due to work commitments in the medical lab on Sunday, you guessed it, the battle against the new Omicron Covid strain, I had to leave before the end of the show.
As the cold air blasted my face, complying with the rules, I put my mask on before I entered Hammersmith underground Station and as the train bellowed and pushed deep into the earth my body rocked from side to side as I sat and reflected back on not so much a good award night, but a great award night. The night that CCM and UK Gospel legends embraced. Different categories but the same objective.
Well done to Dennis and his team who will need your continued support by way of finance, prayers and publicity.